Diwali Celebration with Swami Dayamritananda Puri
Amma says that Diwali, the Indian Festival of Lights, is a reminder to us to light the lamp of goodness to remove the darkness of wickedness within - to invoke the divine within our hearts. "If we can light the lamp of faith and love in our hearts and walk forward together, then we definitely can dispel the darkness that we see around and bring about a change in society."
It is a Diwali tradition to perform a puja dedicated to Maha Lakshmi, the Goddess of Auspiciousness. The Lakshmi puja is performed to create prosperity, material abundance, and spiritual prosperity and to remove troubles that prevent us from starting a spiritual path or business. To register for a sankalpa (special intention) to be made on your behalf, or for a loved one, please sign up using the link provided below: $190 per individual
Watch the pujas on the MA Center San Ramon YouTube channel
Contact: macsrevents@ammagroups.org
---
Performed by: Pujarini Meera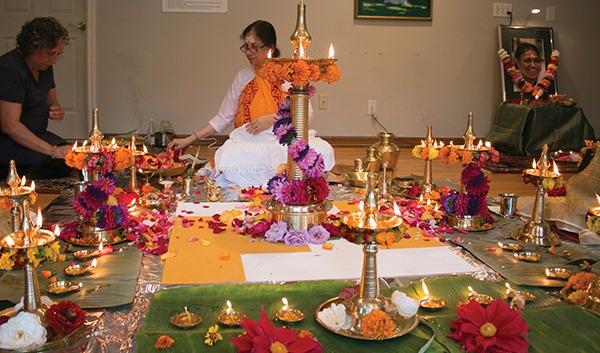 Schedule
Puja/Homa Name
Details
Date and time
Cut-off date for online order
Online registration
Fri, Nov 05, 2021
06:00 PM PST
Fri, Nov 05, 2021
05:00 PM PST
---
Puja time in your timezone
Time Zone
Puja Time
Registration Cut-off Time
PST
Fri, Nov 05, 2021: 06:00 PM
Fri, Nov 05, 2021: 05:00 PM
EST
Fri, Nov 05, 2021: 09:00 PM
Fri, Nov 05, 2021: 08:00 PM
---
All donations for the pujas are used to support Amma's numerous humanitarian projects and also to cover the expenses associated with performing the pujas.
---