To open the retreat, an auspicious Homa, sacred fire ceremony, will be performed by Br. Viviktamrita Chaitanya in the traditional Kerala style.
The following homas and pujas will be included and are available for retreat participants to register for a sankalpa (spiritual resolve) to be made on your behalf, or for a loved one:
Ganapathy Homa: For positive vibrations in the house, when starting new ventures such as a new job, or generally to remove obstacles. $65
Maha Mrityunjaya Homa: For a long and healthy life and to get rid of prolonged sickness. Especially for those on their deathbed. $250
Navagraha Homa: For all nine planets. $250
Homas for Individual Planets: Sun, Moon, Mercury, Mars, Venus, Saturn, Jupiter, Rahu and Ketu. $35 per planet
Contact: events@amma.org
---
Performed by: Br. Viviktamrita Chaitanya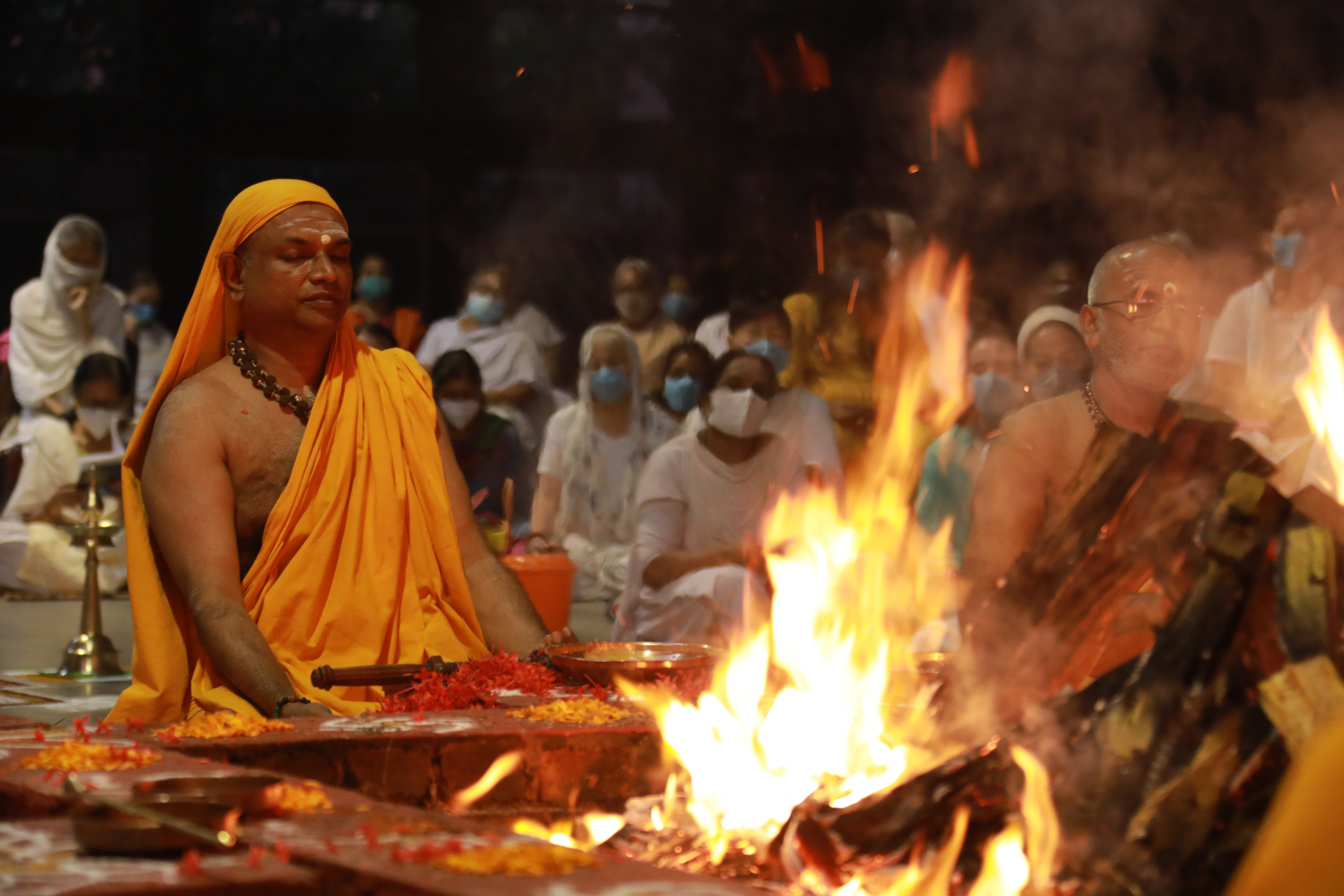 ---
Schedule
Date and time
Cut-off date for online order
Online registration
Additional information
Questions?
Friday, Nov 26, 2021
03:00 PM PDT / 06:00 PM EDT
Friday, Nov 26, 2021
02:00 PM PDT / 05:00 PM EDT
Time Zone
Homa Time
Registration Cut-off Time
PST
Fri, Nov 26, 2021: 03:00 PM
Fri, Nov 26, 2021: 02:00 PM
MST
Fri, Nov 26, 2021: 04:00 PM
Fri, Nov 26, 2021: 03:00 PM
CST
Fri, Nov 26, 2021: 05:00 PM
Fri, Nov 26, 2021: 04:00 PM
EST
Fri, Nov 26, 2021: 06:00 PM
Fri, Nov 26, 2021: 05:00 PM
UTC
Fri, Nov 26, 2021: 11:00 PM
Fri, Nov 26, 2021: 10:00 PM
CET
Sat, Nov 27, 2021: 12:00 AM
Fri, Nov 26, 2021: 11:00 PM
IST
Sat, Nov 27, 2021: 04:30 AM
Sat, Nov 27, 2021: 03:30 AM